Floor moldings for every style and taste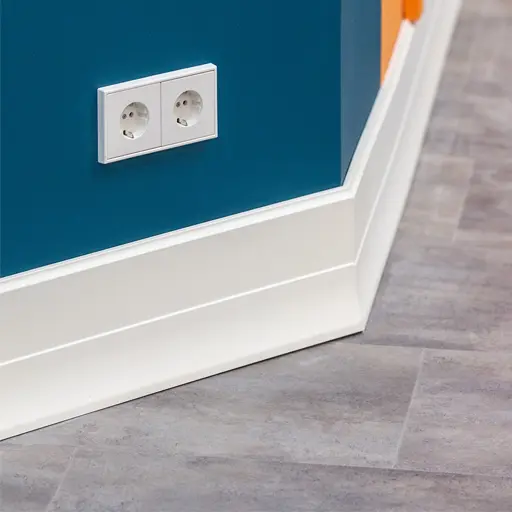 The baseboard is an important part of the interior and serves not only as a decorative element, but also performs practical functions. Whether you
Connecting your floor coverings,
protect the floor from shocks
or simply want to create a seamless transition between the wall and floor,
the bottom bar is the ideal solution. In this article you will learn more about the different types of baseboards and get useful tips on installation.
There are a variety of baseboards on the market, offering different styles and materials. From classic wood moldings to modern metal or plastic moldings, you're sure to find the right baseboard for your home. If you prefer a timeless look, baseboards made of white plastic are a popular choice. They match almost any interior style and give your rooms a clean and neat appearance. If you prefer a modern look, LED baseboards are well suited. In addition to a straightforward style that suits any interior, this is a wonderful way to illuminate rooms indirectly.
The advantages of floor moldings white
Baseboards in white have several advantages:
On the one hand, they make rooms appear larger and brighter, as they reflect light and visually open up the space. This is especially beneficial for smaller rooms or rooms with low natural lighting.
On the other hand, white baseboards are versatile and combine well with various floor coverings. Whether you have laminate, parquet, tile or carpet, white baseboards blend in harmoniously and provide a clean transition.
Glue or attach the baseboard?
The type of installation depends on various factors, such as the floor covering and the nature of the wall. Baseboards can be either glued or attached to the wall with nails or screws. If you prefer a simple and quick solution, gluing the baseboard is a good choice. For this purpose, use a high-quality mounting adhesive that is specifically suitable for this purpose. However, for uneven walls or special requirements, it may be more appropriate to fasten the baseboard with nails or screws. This provides a more stable and durable method of attachment.
Baseboard in the kitchen
The kitchen is an area where functionality and aesthetics are equally important. A baseboard in the kitchen helps to cover the transition between the wall and the floor and at the same time protect the floor from water, dirt and other stains. When choosing a baseboard for the kitchen, it is advisable to choose an option that is waterproof and easy to clean. Plastic moldings or aluminum moldings are well suited for this purpose, as they are moisture resistant and easy to clean.
Conclusion
The baseboard is an important addition to any flooring. It not only provides a seamless transition between the wall and the floor, but also protects the floor from damage and gives your rooms a finished look. With different materials, colors, and installation options, you can find the perfect baseboard to match your personal style and the needs of your space.